Adult and senior development offers seniors the hope of a mobile phone device that they can use
Adult and senior development depends on how modern technology including mobile phone devices affect the lifestyles of today's senior citizens. It's common practice today for mobile phones to come equipped with a touch screen. However, this touch-based interface is often confusing for many people including seniors. People with vision and fine motor skill problems have difficulty using the virtual on-screen buttons and gestures on the mobile phone display screen.

What do seniors look for in a mobile phone?
One company set out to find a solution to this dilemma. Tomas Slavicek and his team wanted to identify the best mobile phone interface that would make older people happy while using their mobile phone devices. They interviewed five people above the age of 60. They gathered 118 survey answers while working with the Czech Technical University in Prague.

Unfortunately, older adults are viewed as disliking the use of modern technology including the mobile phone and are reluctant to consider using it. However, this stereotype of adult and senior development is not true. Senior adults want to understand and embrace modern inventions. They tend to avoid using this technology either when the product is too complicated for them or they do not trust the device. Seniors have the ability to learn how to use a complicated technical device, but they want to know how such usage would benefit them.

Adult and senior development should revolve around an easy to use mobile phone
When the mobile phone interface is complicated, senior adults are confused and frustrated trying to learn how to use the device. They blame themselves rather than the application for their emotions. They often do not understand how certain functions are labeled. For example, how does a Calendar work in a phone or what are Conversations. An easy to use mobile phone is an essential aspect of adult and senior development.  Seniors only want to use a limited number of features. They don't need to see the more complicated mobile phone features. 

Modern technology has decreased the size of modern devices and has added too many integrated features. Many interfaces require people use precise movements while using the devices. People over the age of 65 require about 50 to 100 percent more time to complete a task than adults younger than 30. Most of this time relates to making a decision. Real movement time is similar to that of younger people. People above the age of 50 think that their mobile phone device has more features than they would ever use.

Man thinking while walking, "I think it's time for me to learn to use a mobile phone. I'll ask those girls sitting on the bench how."
What do David and Dana want their mobile phone to do?
There are two real life examples of how adult and senior development works for them when it comes to using mobile phone technology. David wants to personalize his mobile phone, change the ringtone or use a background image. He regularly adds new people to his phone's contact list. He occasionally sends an email or surfs the Internet. He wants his mobile phone to be discrete and receive SMS notifications quietly. 

Dana has only a few people in her phone's contact list. She is lonely and is very anxious to reach out to others. She wants a mobile phone with a dedicated button on the phone to reach out to people when she needs help. She is worried that she might delete something from her phone by mistake, so the mobile phone should have the ability to read aloud what's written on the display. She wants to be notified immediately when she receives an SMS or incoming call.

Finally an amazing mobile phone interface for seniors!
Tomas and his team have designed a new interface called KoalaPhone based on their research findings. The design is very user-friendly and is for anyone who wants a simple phone with a large keyboard. KoalaPhone looks like a classic feature phone with buttons. All items, buttons and notifications have been enlarged.

How can the younger generation teach seniors how to use a mobile phone?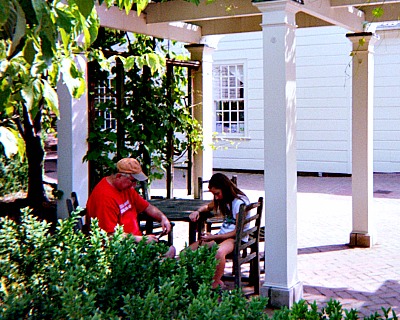 Maybe the grandfather is saying to his granddaughter, "I think it's time I learned how to use this thing!"
Young people can play an interesting role in adult and senior development by teaching older adults how to use smartphones. GrandparetnsGoneWired.org offers tips on ways they can teach senior adults how to use their mobile phone devices. This helps seniors adapt to the new technology to help improve the quality of their lives each day. This organization helps seniors stay connected with loved ones and improves the health of senior citizens.

"Grandparents Gone Wired gives young people a chance to spend time with the older adults in their lives and teach them a new skill," said Naomi Hirabayashi, chief marketing officer at DoSomething.org. "When older adults learn how to text like their grandkids, it makes them feel more connected and in the loop with what's going on in their lives."