Teen selfie is a popular way to use your mobile phone   

 Teen selfie is one thing a teen can do to develop an interest in mobile phone photography. Taking a teen selfie is one way to preserve memories of important places and events. Including friends and family in the teen selfie adds a special touch to the photograph. 

 Are you interested in mobile phone photography? If so, then there are some tips and preparations to make before you start taking pictures with your mobile phone. 

Ten tips for taking a teen selfie and other pictures with your mobile phone  
1. Make sure your lens is clean. The dirty glass over the lens will block light that enters the camera's sensors leaving smudges on the photographs.

2. You can learn a lot about photography from studying the work of other photographers. Make a list of the subjects for your photographs. You can then look for these shots on your photography outings.

3. You should make sure you have plenty of light when taking indoor and outdoor photographs. The right lighting ensures the best image quality of the subject you are photographing. 

4. Avoid adjusting your digital zoom by taking close up shots. However, you should be careful to avoid getting too close. Some mobile phone models distort the images of shots taken too close to the subject. 

5. Try to keep your mobile phone as still as possible while taking pictures. Choose the best photo apps that will help you take your best shots and edit the quality of these pictures afterwards.

6. Understand how your mobile phone takes pictures. Learn what the limitations are for shutter-speed range and fixed aperture. However, having the right mobile phone apps can help overcome mobile phone camera limitations.

7. Focus on one interesting subject from a unique perspective. Memorable mobile phone photographs also include reflection scenes of mirrors, large bodies of water, metallic surfaces and other objects providing reflection shots.

8. Symmetrical photos that provide harmonious balances make beautiful photographs to look at. Photographic symmetry is the division of a picture into two equal parts.

9. Taking compelling photographs includes taking close-up photos that reveal smaller details in the larger image.

10. Taking candid photographs can capture a person's emotional expressions more readily than taking a picture of a person who has posed for the shot. Try to capture interesting things people do for your picture portraits. Come up with comical pictures that will make others laugh.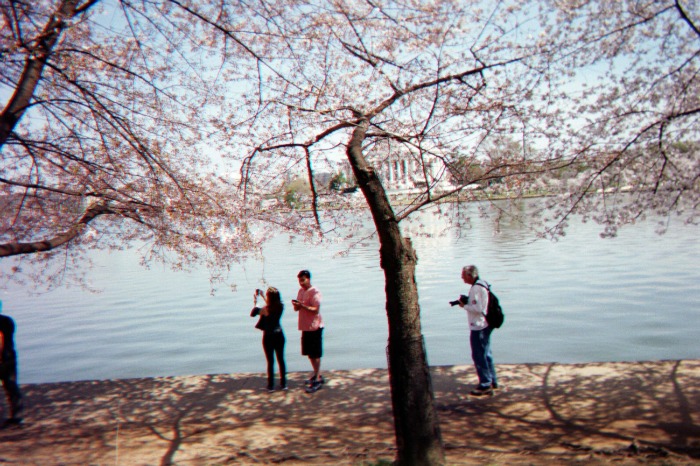 People are taking photographs of the cherry trees in bloom around the Tidal Basin in Washington, D.C. This might inspire you to take your own mobile phone photographs.
Learn how to take great shots with photography tutorials
Online photography tutorials can help you stay up to date with the latest tips and techniques to use with your mobile phone camera. For example, turning on gridlines will help you set up the way you will take photographs. Establishing gridlines follows the "rule of thirds."

 Photography tutorials explain that the "rule of thirds" is one of the basic principles of photographic composition. An image is broken down into thirds. Horizontal and vertical thirds breaks the planned shot down into nine different parts. The well-known photographic theory helps photographers balance their pictures by placing points of interest in the intersections or along the "rule of thirds" lines.

 There is more to taking great pictures than your average teen selfie. Keep an open mind while using your mobile phone device for picture taking. Social media channels such as Facebook and Instagram provide a way to share the photographs online with others. Finally, always be ready to capture that perfect picture. 

Please share your stories of your mobile phone photography adventures below.