In memorial or in memoriam to Darwin John Koester

In memorial or in memoriam is a special tribute in memory of the life of my husband, Darwin John Koester.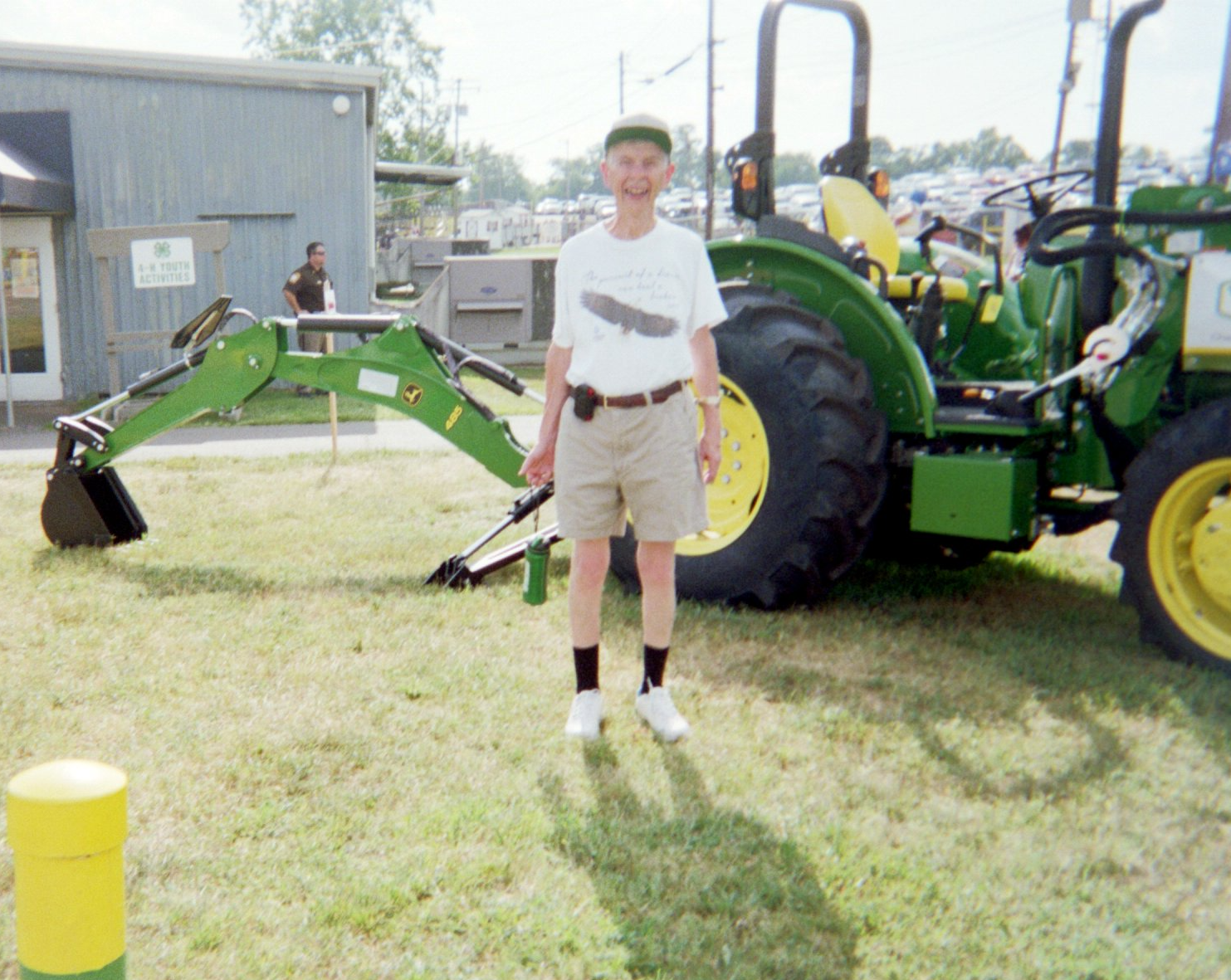 A recent picture of my husband, Darwin John Koester, at the Prince William County Fair in Manassas, Virginia.
In memorial or in memoriam of how we first met
"Mom, I was asked out for Thanksgiving." That's what I told my mother on the telephone over forty-four years ago.
Someone at Darwin's place of employment with the federal government suggested he ask if I wanted to go out for Thanksgiving with him. I accepted and we had a good time. That was the start of a relationship and friendship that lasted for over forty-four years. After my mother met him for the first time, she advised me to hang on to Darwin. And that is what I did.
Darwin was a Supply Cataloger and I was a Supply Clerk. We both worked for Federal Supply Service under the General Services Administration umbrella. This was my first full time position with the federal government after graduation from the American University School of International Service with a BA degree in International Studies.

After that first Thanksgiving meal, we did other things together. We went to historical places, plays, movies, shopping and eating out at restaurants every Saturday. We also enrolled in a few classes together at Northern Virginia Community College.
I was living in an apartment with a roommate the during the first year when we did things together. My roommate decided she didn't like the living arrangements any more. Darwin helped me find an efficiency close to the apartments he was renting in at the time. He said I couldn't move in with him because we weren't married.
Darwin's background
In memorial or in memoriam also is a remembrance of Darwin's life. Darwin was a cradle Roman Catholic. His faith was very important to him. He attended mass every Sunday morning proving that he was a devout Roman Catholic.
He had attended all Catholic Schools as a child and later as a teenager. He graduated from K-8 at St. Peter and St. Paul's, the church he attended with his family in Hamburg, New York. Although he was born in Buffalo, New York he lived in Hamburg, New York with his parents and two younger sisters. He attended Bishop Timon/ St. Jude High School in Buffalo, New York. He was inducted into the National Honor Society. He won a New York State regent scholarship and went on to attend Siena College in Loudonville, New York.
Darwin loved history. He was especially interested in the civil war. Together we visited many battlefields in Virginia.
In the 1980s, Darwin was on a riff list from Federal Supply Service. After working for a short time in another position, Darwin was hired as a reference librarian in another part of General Services Administration. He stayed in that position for 22 years before his final position in Personnel Security. After he recovered from a strep bacterial infection in 2010, he decided to retire from the federal government.
In 1983, my mother passed away. Darwin drove me up to New Jersey for my mother's funeral. He stayed in our house. Later, my father moved down to live with me in an apartment in Arlington, Virginia. Darwin lived close by. He had purchased a condominium.
Darwin and I had some similar interests. We both liked studying history and visiting historical places. We did something together for most weekends before we were married. We always went out to eat dinner on Saturday evenings.
My father came with us on some trips before we were married. One was to Williamsburg and Jamestown. I went only with my father down to Virginia Beach. Darwin and his two sisters combined resources to take their parents on an anniversary trip to various places.
In 1990, my father and I bought a townhouse in Woodbridge, Virginia. I had left the federal government and rent prices were on the increase. My father thought that this move would be more affordable for us.
It was during the early 1990s that I attended a Baptist church with my future step-mother and her children. My father asked me to come for a special event one day. I discovered to my surprise he was being baptized. He had accepted Jesus as his promised Messiah, but didn't tell me because he thought I would object. I didn't tell him that I had accepted Jesus much earlier in 1984 after my mother had passed away because I thought he would object. We both became Jewish believers. In 1993, I was baptized and confirmed at All Saints' Church in Woodbridge, Virginia.
After Darwin heard my testimony during my baptismal ceremony, he decided that I was the one he would like to live with for the rest of his life. My father gave his permission for Darwin to marry me. We contacted Darwin's priest at his church and the marriage counseling began. We were married on October 15, 1994 at All Saints' Church in Dale City. Darwin's Roman Catholic Bishop gave him two dispensations. One because he was marrying a non-Catholic and two because we were married in a protestant church.
Our marriage was a very happy one and lasted for 27 years. Unfortunately, on November 29, 2021 Darwin woke up early and told me he had a pain in his stomach. He didn't get up, do his exercises or get dressed. He stayed in bed all day in his pajamas. We usually did our grocery shopping on Mondays, but we didn't that Monday. He didn't even feel well enough to bring the garbage can in. He had taken out the garbage the night before. He wasn't able to finish his dinner that night. He was doing some of the normal things he usually did, but in some ways, he wasn't his usual self. So, I knew something was terribly wrong
He wasn't better the next day on Tuesday, so I went grocery shopping by myself. After I put the groceries away, I came upstairs to see how he was doing. He said he heard me come in. He was still lying-in bed in his pajamas. Things weren't much better the next day. He was getting worse and not better. At lunch I told him I had never seen him that sick in all the years I knew him. He said it was 44 years that we knew each other.
That afternoon I heard him cry out. I rushed into the bedroom to see how he was. He was shivering under the covers. He had put an extra afghan over him to keep him warm. I called his name. There was no answer and he had passed out. I called 911. The dispatcher said to keep pressing on his chest. She said the first responders were on their way. When they came, they asked me if they should take him to the hospital. I said they should. I was getting ready to visit him in the hospital when a half an hour later a very kind police officer told me not to go there. My husband of 27 years for the first time in his life never came back home.
Here is what I had written and read to attendees prior to his funeral mass in memorial or in memoriam of him.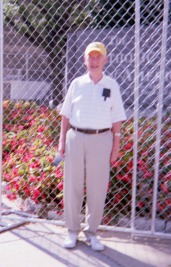 Another picture added to my memories of my husband, Darwin John Koester. He is standing front of the Basilica of the National Shrine of the Immaculate Conception in Washington, DC.
In memorial or in memoriam of Darwin John Koester
I met Darwin 44 years ago when we were both working for Federal Supply Service (GSA). Our first date was on Thanksgiving. I had called my mother to tell here that I had been asked out for Thanksgiving dinner in 1977. She was happy for me. Later, after she met Darwin, she told me to hang on to him.
We were best friends for 17 years prior to a marriage that lasted 27 years. It was a very happy marriage based upon friendship and a partnership.
Darwin wrote to me during the Engaged Encounter weekend we attended as part of our pre-marital preparation, "When you were baptized as a Christian, that was a major step in my decision to ask you to marry me."
His strong commitment to his Catholic faith helped to plant the seeds that eventually led to my acceptance of Y'shua as the promised Messiah of the Jewish people.
Darwin, I love you and you will always be in my heart. I will miss you. However, I accept the fact that G-d called you home.
Mobile Phones Research is dedicated in memory of my husband, Darwin John Koester. More information about Darwin John Koester.