About Mobile Phones Research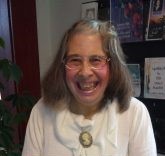 Hi. I'm Sheila Koester creator of the Mobile Phones Research website.
The written word has the power to persuade others to take an action. Education and information technology work together. I have a background in both. I have work experience both as a substitute teacher and as a software developer. My passion for writing helps me as a freelance online copywriter.

.

Aaccording to the Merriam-Webster dictionary,  a copywriter is a writer of advertising or publicity copy. According to the American Writers & Artists Inc, (AWAI) article titled What is Copywriting?, copywriter definition is "the process of writing advertising promotional materials. Copywriters are responsible for the text on brochures, billboards, websites, emails, advertisements, catalogs, mobile phones and more."  "A salesman in print" is another way to define what a copywriter does. That's because copywriting persuades the reader to take action. Actions include purchasing, opting-in or engaging with a product, service or company.

As a substitute teacher and former programmer analyst I have been fascinated by the technology I have observed all around me. I wondered why all the students I saw were suddenly carrying mobile phones around with them in class and when they changed classes in the hallways. I wanted to learn more about why these small screens were fascinating to them and why these students couldn't live without them.

Technology has found its place in today's society. It's here to stay. So, it shouldn't come as a surprise as to why I think that educational institutions should find ways to incorporate the use of technology in the instructional day. Technology also has it's place outside of the school walls.

Mobile Phones Research beginnings
I researched this fascination with mobile phone technology and decided to write about it here in Mobile Phones Research. Later on, I decided to expand upon this and include information about related technologies such as apps, chatbots, augmented and virtual reality, etc.

I wrote about my findings in articles that I posted at this website. I hope that this information will be useful to school administrators, teachers, parents and students.

Technology is ever changing. It never stays the same. There is always something new to learn and adjust to. It can make our lives easier. However, sometimes it can also be a hindrance. It can lead to social problems like bullying. Spending too much time on social media platforms can also be a distraction. It can prevent us from socializing with others in face-to-face meetings. 

It can also be a blessing. During the coronavirus pandemic society depended on technology to communicate with one another. Educators depended on technology to reach students who couldn't come to school buildings due to CDC restrictions. Many educators, parents and students needed to adjust to this non-traditional way of learning. 

Younger generations adapt to technology more easily and readily than do older generations. Elementary school children are now learning how to code through fun games and exercises. 

There is an increasing emphasize on STEM and STEAM in school STEM is science, technology, engineering and math. STEAM is science, technology, engineering, arts and math. STEM and STEAM programs are all designed to prepare young learners for life after they complete their education as adults. It will help prepare them for the new demands of tomorrow's workplace.

I'm wondering what our educational landscape will look like after the pandemic. Will traditional schools adapt to the incorporation of technology into the modern classroom? Or will there still be some opposition to so much reliance upon technology in our educational institutions? Time will tell.

I hope you will enjoy reading the web pages at Mobile Phones Research and it will help prepare you for tomorrow's technology challenges in education. Keep returning to this website. I'll do my part to keep you updated on the latest developments in technology and education.

Here is a link to a video produced by the school district, Prince William County Schools, that was my main inspiration for the creation of this website -- Mobile Phones Research.

"We're getting ready for the first day of the 2021-22 school year. Get inspired as we prepare to launch thriving futures in PWCS! Written and narrated by Freedom High School student, Nyela Asterilla-Anderson."

(17) Launching thriving futures in PWCS - YouTube

This website is built on Site Sell's SBI platform. Here is my opinion about SBI.

I've created an Education Technology Facebook group that corresponds with this website. Here is the link to my group if you would like to join...