Teens online world revolves around many different interests
Teens online world includes the use of mobile phones that help teens explore interests in hobbies such as sports and photography. 

Mobile phone apps help teens stay connected
Teens use different mobile apps daily to stay in touch with other people, for instant messaging, accessing a social networking site, for email, taking and exchanging pictures and videos, going online, make purchases, play music and games. Why are teens more motivated to use these mobile phone apps than they are in doing schoolwork? Learn more about teen motivation and the most popular mobile phone apps that teens use to communicate with each other today.

Why aren't some teens happy unless they have a mobile phone?
 Most teens consider mobile phone ownership essential to their happiness and social standing. Some teen's purchase their own new smartphones with the money they earned working at part time jobs after school and on weekends. Parents of other teens purchase mobile phones as a way for their teens to communicate with friends and family. The best way is for parents to accompany their teens to the mobile phone store and let their teen pick out their own mobile phone device. Let the store representative answer questions about what are mobile phones.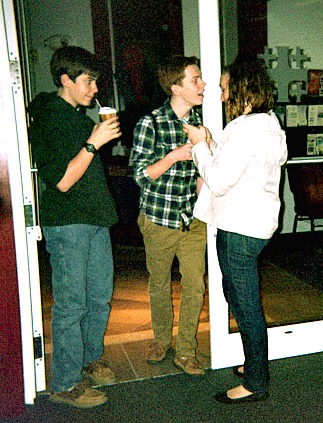 Teens online world revolves around mobile phones
Teens learn to be independent and rely less on their parents to perform tasks for them such as finding out movie times, the best places to shop and eat. In this information age, teens using their mobile phones to communicate learn to survive in a modern, fast-paced world. The teens online world centers around both texting and calling to help teens manage social life, logistics and school.
In an interview with one high school student, she mentioned that she uses her mobile phone to communicate with her friends and parents. She said she didn't always have one when she was younger, but she is happy to have one now. She uses a mobile phone nearly every day as do most teens in the teens online world.
Teens use mobile phones in five different ways.

Text messaging and teens
Text messaging frequency increases as teens grow older. Lower income teens are more likely to say that they never send text messages. Higher income teens are slightly more likely to say they send and receive texts every day. Girls and high school-age teens (ages 14-17) are more likely than boys or younger teens to interact frequently using text messaging with friends and siblings.

Most teens use their mobile phones to make one to five calls per day. Girls are more likely than boys to call their friends on a daily basis. Teens call their parents and chat with them at least once a day. About half of teens who have a boyfriend or girlfriend call them on a daily basis. In the teens online world, about 59 percent of teens talk with friends once a day or more often.
Teens are comfortable with the idea of education and technology. They use mobile phones to connect with their parents and other adults. They have questions about how mobile phones can be used to solve social problems around the world. They liked to learn more about mobile phone technology. Basics of mobile communication is they way they learn more about using mobile phones for holidays and other events. If you have a story to share or a question you can submit your comment or suggestion using the form after the subhead "Ever wonder how mobile phones can change your life?" in fun questions.